An exclusive look at the Build-A-Bear store of the future
BY KAVITA KUMAR (kkumar@post-dispatch.com/314-340-8017)
Sep 16, 2012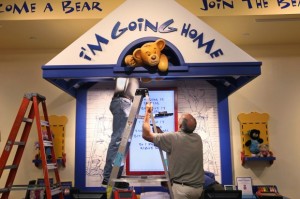 Workmen put the finishing touches on the new Build-A-Bear Workshop. on Friday, Sept. 14, 2012. The new interactive store opens Monday with many new interactive displays designed to keep kids busy.  Photo by J.B. Forbes (jforbes@post-dispatch.com)
After two years of making maps of where children smile in the store and standing on their knees to see from a child's vantage point, the folks at Build-A-Bear Workshop are finally unveiling their first newly imagined store at West County Center.
The new prototype — the Overland-based retailer's first major overhaul of its stores — transforms its signature bear-making process into a more high-tech and sensory experience targeting youth who grow up with iPads.
In an exclusive preview of the store this week, company officials displayed some of the newest features for the Post-Dispatch, including the new "love me" station, where children can place their bear's heart on a digital touch screen and add personality attributes such as "loving" and "sporty".
 Other highlights include an upgraded bathtub, where the stuffed bear gets a virtual bath and toy boats and ducks make digital ripples. A kiosk at the front of the store, powered by Microsoft Kinect technology, allows children to play games by waving their hands in front of it.
The store updates are key pieces of Build-A-Bear's strategy to reverse losses it has sustained in two of the past three years.
Maxine Clark, the company's founder and "chief executive bear," said so much has changed since Build-A-Bear opened its first store in 1997 at the St. Louis Galleria.
"The 10-year-old girl of today is a lot different than the 10-year-old girl of 15 years ago mostly through technology," she said. "So how we can make this fun and relevant to them?"
Build-A-Bear is constantly adding new products to its stores, but Clark said it hasn't done much until now to change the experience in the store. But in a fast-evolving world — Clark plans to buy the latest iPhone after just buying one last year — she said retailers have to keep pace.
The West County store will swing its doors open to the public this week with a grand opening celebration on Friday. In October and November, five more stores will open with the updated concept in California, Maryland, Michigan, Virginia, and Indiana.
And next year, some of the new concepts will begin to be incorporated into other stores throughout the chain of more than 400 stores worldwide.
Analysts are reserving judgment on the new stores until they see them in person.
But Sean McGowan, an analyst at Needham & Co., said Build-A-Bear needs this reinvention so people won't feel like they've "been there, done that," he said.
 "I think it's important for them to show that it's new and fresh without breaking the bank," he said.
Still, he noted that the Build-A-Bear model has held up fairly well and is one of the only children's interactive experiences of its kind.
Build-A-Bear reported a net loss of $17 million last year, with revenues of about $394 million.
Along with the new concept stores, Clark said Build-A-Bear will pare back its number of stores to boost financial performance. It had 288 stores in North America at the end of last year, but will reduce that to about 225 to 250 stores, she said. Gone will be stores in markets where they have multiple stores and in malls that have gone too upscale or no longer have other children's retailers.
 The core of the store experience — the sequence and various bear-making stations — have remained pretty much the same in the new concept. So many of the changes may not be immediately apparent when you first walk in the new store, Clark said.
"I think some people are going to come in and say, 'What's different? It looks like Build-a-Bear,'" she said. "We didn't want to throw out the baby with the bath water. Because kids love Build-A-Bear, they recognize our yellow stores and they come running up. We wanted it to be familiar, but we also wanted it to feel more like a playground."
Indeed, some of the updates have been subtle, such as bringing down the height of the bins of pre-stuffed animals so they are more within the reach of youngsters. Another update has been separating the bear clothes into different sections for boys and girls. That change has resonated well with boys, who make up about 30 percent of the chain's customers, who now feel they have more of a dedicated space that caters to them, Clark said.
The stuffing machine has not changed much, but the sound station has. Instead of choosing from drawers with different sound chips, children can scroll through a touch screen to pick out various animal noises, along with Justin Bieber or other pop songs that are downloaded to a chip. This sound station has been tested at the St. Louis Galleria for the past year or so.
This summer, the company also began rolling out some scents that be embedded into the bear, too, such as bubble gum, strawberry, cotton candy and chocolate chip.
Executives said they didn't want to just add in technology without making sure it was enhancing the overall experience. In one of the earlier prototypes, for example, the retailer toyed with playing videos above the space where children first pick out their bear.
But Dave Finnegan, the company's chief information officer, said children were more focused on selecting their stuffed animal and didn't look up. So they jettisoned the video.
"So when we talk about technology, it's not about, 'Oh, kids like technology, let's put technology in,'" said Dorrie Kruger, managing director of strategic planning and customer experience. "It's how can we enhance the experience."