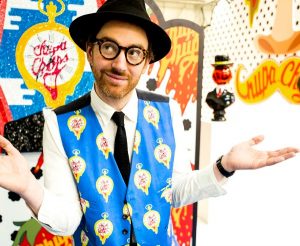 Perfetti van Melle Group dishes out unusual new licensed products for its Chupa Chups, Airheads and Mentos brands. By Kat Zeman
Not many companies can claim to have worked with Salvador Dalí, the Spanish surrealist. But Perfetti van Melle (PVM) Group, an Italian global manufacturer of candy and gum, can claim that honor. Dalí designed the original logo for one of the company's brands, Chupa Chups, in the '60s. This year, Dali's work is being revived.
PVM Group has paired up with The Rodnik Band, a London-based art fashion label famous for its pop style and ironic take on fashion, to design a tongue-in-cheek interpretation of Dali's work for new licensing collaborations for Chupa Chups, a popular Spanish lollipop brand and other confectionery.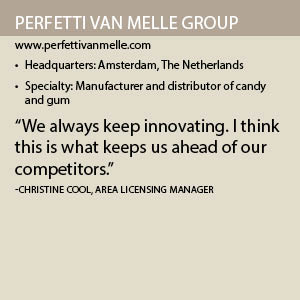 In addition to its core business, PVM Group develops licensing collaborations with a variety of popular brands including Mentos and Airheads. Its collaborations with major companies fall into the lifestyle sectors and select food and beverage categories.
One of the largest confectionary groups with brands in more than 150 countries, PVM Group has licensed Chupa Chups for more than 19 years in Europe and Asia and is launching new licensed novelties with its Mentos and Airheads brands in the United States.
"We look for the right product combinations that can bring novelty to the market and add further value to the brands," says Christine Cool, PVM Group's area licensing manager. "We are now starting a lifestyle program in the U.S. for personal care and clothing with Mentos and Chupa Chups, managed by Lisa Marks Associates."
Eye-Popping Collection
In April, Rodnik's Chupa Chups interpretation was taken to a collaboration with an Italian furniture company, Altreforme. It is a limited edition of Altreforme's iconic aluminum furniture and accessories that features exclusive Chupa Chups prints created by The Rodnik Band. It was unveiled at Milan's Design Week.
"Rodnik did a surrealist interpretation of Salvador Dalí's work with Chupa Chups," Cool says. Rodnik's interpretation consisted of various sequin paintings, sculptures and sparkling outfits that aspired to capture the humor, color and fun traits of the Chupa Chups brand.
"We have always had a link with art and have created an amazing portfolio of designs for licensing purposes," Cool says. "We have more than 1,000 designs for Chupa Chups alone. They are done following the latest trends by designers from all over the world."
Also this year, PVM Group partnered with an international manufacturer of convenience foods, Greencore, to produce "celebration cakes" under the Chupa Chups brand in the United Kingdom and Ireland.
The colorful cake targets tweens, teens and the young at heart. It features 12 lollipops and is available in leading British supermarkets. The partnership was brokered by the global licensing agency, Beanstalk, which is seeking new opportunities in the frozen novelty category.
Cooling Down
One of the most widely known chewy candies in America, Airheads is exploring new territories.
PVM Group has recently partnered with Seltzer Licensing Group to lead its Airheads licensing program and extend its brand into new product categories. "We are excited to work with the Seltzer Licensing team's high level of expertise," Cool says.
Seltzer Licensing Group has been charged with identifying and securing additional licensing partners across multiple categories including foods, beverage, lifestyle, and housewares.
A recent launch is the Airheads White Mystery Freezer Bar by Jelsert. It's available in the United States at various supermarkets including Jewel, Albertsons, SuperValu, and Save-A-Lot. The bars come in a variety of "mystery" flavors.
In addition to the mystery freezer bars, Airheads will appear on stationary as a result of a new partnership with International Greetings USA.
Scent-sational
PVM Group doesn't shy away from licensing its brands out to creative ventures. It continues to seek new ways to connect with its fans.
It recently partnered with Rotuba, a company with manufacturing locations in Linden and Garwood, N.J. Auracell, produced by Rotuba, is the scented sustainable plastics for various consumer products. With Auracell and Snifty Pen, PVM group produced Mentos scented pens. Launched this summer, the pens are limited edition pens that feature a variety of fun fragrances. Mentos scented pens are available in fresh mint and fruit flavors – just like the chewy candy.
They can be purchased online at a variety of retailers including Amazon. "We like to bring very original and exclusive designs to the market," Cool says. "We always keep innovating. I think this is what keeps us ahead of our competitors."
Original Link: The New Innovation of Perfetti Van Melle Group
Retail Merchandise All Rights reserved