Build-A-Bear Workshop Offers New Seasonal Gifts and Personalized Furry Friends for All
ST. LOUIS, MO — (Marketwire) — 09/28/12 — This holiday season, Build-A-Bear Workshop® (NYSE: BBW) has great gifts for everyone's wish list including a new collection of furry friends with sweetly scented accessories, classic Christmas characters, gifts that give back and unique stocking stuffers.
Starting November 1, Build-A-Bear Workshop will sweeten the season with its new line of festive gifts with fragrant accessories.
Limited Edition by Build-a-Bear
Merry Mint Pup ($20) dressed in a stripes & dots dress ($8.50), red & white striped flats ($7.50), red & white candy stripe bows ($2.50), and stripes & dots leash and collar ($5) comes with a mint-scented bone. Complete this tail-wagging gift with a red & white pet bed ($12).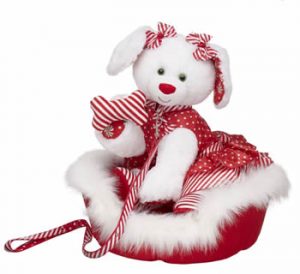 Give a real treat with the adorable limited edition Christmas Cookie Bear ($20). This friend is perfectly present-able dressed in a candy cane tulle skirt outfit ($12.50), red & white candy stripe bow ($2.50) and red & white striped flats ($7.50) and comes with a vanilla-scented sugar cookie.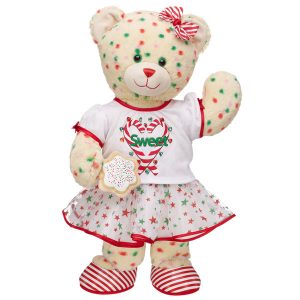 For the first time ever, Build-A-Bear Workshop is introducing Gingerbread Hello Kitty® ($23). This worldfamous friend is ready to spice up the holidays dressed in a red sequin faux-fur dress ($12.50), white faux-fur trim purse with bow ($5) and red heels ($7.50), with a gingerbread-scented cookie. This friend makes a fashionable gift!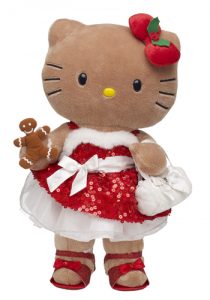 All of these furry friends include a scented accessory that captures the delightful smells of the season. These super sweet-smelling friends combine comforting holiday scents with warm hugs to create a unique gift for children, and adults (who are kids at heart).
Festive Friends Christmas classics are always on trend, so back by popular demand, you can make your own Rudolph the Red-Nosed Reindeer and Clarice.
Give someone special a make-your-own Rudolph the Red-Nosed Reindeer ($23); with light up nose and heart. He is sure to brighten the holidays. Dress him from head to hoof in a red holiday cape ($6), Rudolph slippers ($6.50) and bell collar ($4).
Make-your-own Clarice ($23), the beary special friend of Rudolph the Red-Nosed Reindeer, has a light up heart and wears a stripes & dots dress ($8.50), red bell collar ($4), and red glitter flats ($7.50).
This duo makes the perfect gift. Add Rudolph and Clarice's beary special song for $6.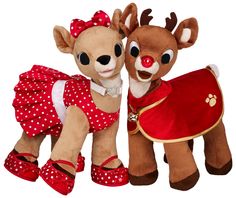 The Grinch ($23), another holiday classic, knows the true meaning of Christmas. He has a heart that lights up three times, which can be seen through his signature outfit, priced right at $13.50.
Give Christmas cheer with Santa Claus, shown here as Happy Hugs Teddy ($15) dressed in a Santa Claus costume ($12.50), Santa beard ($1.50) and black rubber boots ($7.50).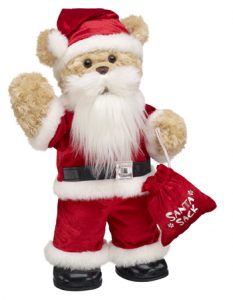 Give a gift that gives back with Champ – A Champion Fur Kids™ ($18); $1 from the sale of this furry friend supports children's health and wellness causes. Shown in a Mrs. Claus dress ($12.50) and red flats ($7.50), she is ready to help make wishes come true.
Celebrate the Festival of Lights with Vanilla Cream Bunny ($20). Dressed in a blue tiered lace dress ($12.50) and black patent bow heels ($7.50) she is sure to bring smiles all eight nights and all year long.
Lil' Bunny Big Ears ($14) and Cheerful Monkey ($18) will stand out under the tree dressed in these traditional elf costumes ($10.50) and matching elf hat and shoe set ($6). Lil' Bunny Big Ears is shown here accessorizing with red striped bows ($2.50) and red striped flats ($7.50).
Looking for super chill presents? Check out Pink Flurry Teddy and Happy Husky that popped in just for the winter season. These cool friends can be dressed in winter clothing and warm accessories. Pink Flurry Teddy ($20) dons her favorite fairisle dress ($10.50), fairisle Nordic hat ($5), fairisle purse ($5) and fairisle fur trim boots ($9). Happy Husky ($20) is cool in a snowboard hoodie ($7), snow pants ($6), silver sport sunglasses ($4), red & silver swirl snowboard ($10), and black rubber boots ($7.50).
Black Friday Special The 2012 Build-A-Bear Workshop Black Friday exclusive is better than ever! For one day only, buy these Flurry Friends for only $5 each. Plus, make a complete gift for just $10 by adding their signature outfits for only $5 each. Take advantage of this one-day savings before it melts away.
Personalized Gifts Stuffed animals provide comfort and entertainment for kids and bring to mind happy memories of childhood for adults. At Build-A-Bear Workshop, Guests of all ages can experience making their very own, personalized furry friend while sharing a special experience with friends and family.
With more than 30 stuffed animals to choose from (bears, bunnies, dogs, kitties, monkeys and more), and a variety of stylish outfits, accessories, sounds and embroidery options, there is something for everyone and every budget.
Add a personalized Build-A-Sound® message to any furry friend for an extra-special customized gift. Your message will play from inside the furry friend every time it's hugged. You can also embroider a personal message on select furry friends and clothing items.
Have a Girl Scout on your list? Check! Give her the Girl Scouts 100th Anniversary Bear ($15), with Daisy, Brownie or Junior Girl Scouts uniform ($12.50) and white sparkle tennis shoes ($7.50).
Sports enthusiast? Check! A furry friend dressed ready to play a favorite sport is the ticket, whether it's Soccer Star Cheerful Monkey ($18), gearing up for the big game in a red & green soccer uniform ($12.50) and beary turf shoes® ($7.50), or any furry friend dressed from head to paw in your favorite college or professional team flag ($1.00), is a pawfect gift for loved ones in the military.
And for the student on your list, School Cool Bearemy® ($15) is the perfect study buddy, in a red varsity jacket ($10.50), classic jeans ($5), white crewneck tee ($5) and black canvas high-tops ($7.50). Comic and movie fanatics will love dressing up any furry friend as Spider-Man ($15 costume). Also available are Captain America, Iron Man and The Incredible Hulk costumes ($15 each).
Accessories Galore And, don't forget to accessorize! From Pawpad® tablets ($6.50), smartphones ($6.50), and Beararmoire® fashion cases ($38) to purses (starting at $5.00), sleeping bags ($10.50) and backpacks ($5), choices are abundant to supplement a special gift or give on their own.
Gifts that Give Back The holidays are a perfect time to shop for gifts that benefit others. Build-A-Bear Workshop offers a variety of stuffed animals that give back to important causes. For the animal lover on your list, Build-A-Bear Workshop will donate one dollar from the sale of each WWF® Amur Leopard ($25) to the World Wildlife Fund to protect endangered animals and their habitats.
German Shepherd ($22), part of the Bearemy's Kennel Pals® line-up, benefits domestic pets. There is also Champ – A Champion Fur Kids ($18), that supports children's health and wellness, and new Paperback Pup ($18) that helps fund literacy programs and makes a perfect gift for teachers and book lovers. When you purchase one of these animals, a $1 donation is made to designated causes through the Build-A-Bear Workshop Bear Hugs Foundation.
Stuff for Stockings From mini furry friends to Bear Buck$® Gift Cards to furbulous accessories, Build-A-Bear Workshop has something to stuff any stocking. These smallfrys are limited edition, small-sized, pre-stuffed pals with outfits and accessories just like the larger stuffed animals. New for the holidays are Calico Cat, Poodle, and Bunny build-a-bear smallfrys® ($10 each), and colorful Hello Kitty smallfrys ($12 each). These small plush pals are perfectly priced and pop easily into stockings for a special holiday surprise. Dress them in an assortment of outfits and accessories ($6 each).
Bear Buck$® Gift Cards allow you to give the Build-A-Bear Workshop experience. You can choose a design and an amount. Each gift card purchased in-store comes in a festive mini Cub Condo® house and includes an activity book with a free virtual furry friend to play with on Bearville.com™. Also, anyone who receives a furry friend from Build-A-Bear Workshop can register their friend for free on Bearville.com™, a virtual world and entertainment destination where friends hang out, play games and shop for cool virtual stuff. Gift givers can purchase V.I.B. Subscription Cards with monthly credits and bonus Bear Bills® or Bearville Outfitters® Virtual Stuff Game Cards with credits for virtual rides, clothes, homes and furniture at the Bearville Outfitters store.
Gifts for You! Starting November 1, for a limited time only you can get a free Cookbook & Cookie Cutter Kit with a purchase of $30 or more. Our gift to you, while quantities last, includes three cookie cutters, 10 recipes and customizable recipe pages. Bake up holiday memories!
And starting December 26, get a free 2013 calendar with any purchase while quantities last. This calendar features our very own Huggable Heroes, remarkable kids who are doing their part with heart and making a very big difference in their local and global communities.
About Build-A-Bear Workshop, Inc.
Build-A-Bear Workshop, Inc. is the only global company that offers an interactive make-your-own stuffed animal retail-entertainment experience. There are more than 400 Build-A-Bear Workshop stores worldwide, including company-owned stores in the U.S., Puerto Rico, Canada, the United Kingdom and Ireland, and franchise stores in Europe, Asia, Australia, Africa, the Middle East, Mexico and South America. Founded in St. Louis in 1997, Build-A-Bear Workshop is the leader in interactive retail.
Brands include make-your-own Major League Baseball® mascot in-stadium locations, and Build-A-Dino® stores. Build-A-Bear Workshop extends its in-store interactive experience online with its award winning virtual world website at bearville.com™. The company was named to the FORTUNE 100 Best Companies to Work For® list for the fourth year in a row in 2012. Build-A-Bear Workshop (NYSE: BBW) posted total revenue of $394.4 million in fiscal 2011. For more information, call 888.560.BEAR (2327) or visit the company's awardwinning website at buildabear.com®.
TRADEMARKS
We would like to thank you for your interest in covering our business. As you write your story,
we would ask that you use our full name: Build-A-Bear Workshop® and that when referencing the process of making stuffed animals you use the word "make" not "build. "Build-A-Bear Workshop is our well-known trade name and our registered trademark of Build-A-Bear Retail Management, Inc. Build-A-Bear Workshop® should only be used in capital letters to refer to our products and services and should not be used as a verb.
View a media-rich version of this release here.
Contact:
Katie Zeidman (573.268.2820)
Kris Brill (314.780.1332)
Source: Build-A-Bear Workshop