From The Belly Of Bears
Redefining the teddy bear is an ongoing process at Vermont Teddy Bear.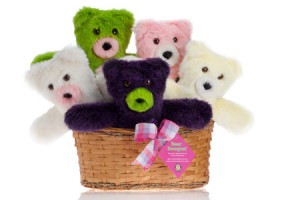 From birthdays to wedding anniversaries to graduations, Vermont Teddy Bear has a specially-designed bear for almost every occasion.
So it was only natural for Vermont Teddy Bear to roll out scented teddy bears for Mother's Day 2010.
"It's a first for stuffed toys and a testament for how scent provides an additional emotional touch point to a product category that is all about comfort," says Adam Bell, president of Rotuba, Inc.
The fragrance comes from pellets of Auracell™ scented natural polymer located in the belly of the bear. Auracell™ was developed by Rotuba based on Eastman cellulosic, which is primarily derived from wood pulp. Givaudan, an international fragrance house, specially created the scents for Rotuba.
"The bears are a great example of how Auracell™ can effectively deliver scent in different ways," Bell explains. "You don't see the material but it's providing just the right amount of fragrance over an extended period of time."
The bears – one-foot high and one-foot wide – come in flower-inspired packages called Bear Bouquets. The three-bear bouquet features the scents of watermelon, strawberry and vanilla cupcake. All three scents plus grape and lemon are in the five-bear bouquet. The fragrance is guaranteed to last up to two years.
Like all Vermont Teddy Bears, the scented bears are handmade in Vermont and sport "Born in Vermont" eyes and "tush tag" with the Company's unconditional lifetime guarantee.
---
About Rotuba For more than 60 years, Rotuba has been an industry leader in plastic compounding, with its brands including Auracell™ and Naturacell™. Today, Rotuba is at the forefront of the shift to a greener industry with Auracell, a polymer derived from trees and cotton that can incorporate long-lasting scents.  Auracell can be reprocessed, recycled and reused in most applications, making it a smart choice for manufacturers looking to meet increasing green demands around the world.